What Happens in Your Mouth While You Sleep?
Posted on June 13th, 2021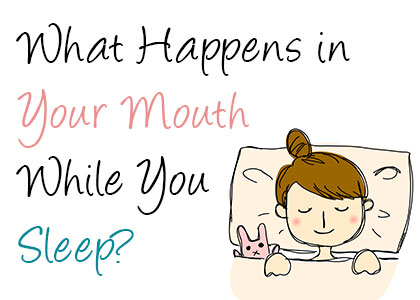 Ah, nighttime… the end of the day, the ceasing of work, and hopefully a good night's sleep. But did you know things are still happening in your mouth all night long, even if you're blissfully unaware of it? Dr. Buchholtz & Dr. Garro, Watertown dentist sheds some light on the world of your mouth and everything going on inside of it while you catch some zzz's.
Dry Mouth
You produce much less saliva overnight than you do during the day—your body's way of minimizing the risk of choking. This leads to the common occurrence of dry mouth. Dry mouth can be a bit uncomfortable and lead to more cavities and bad breath. It's perfectly fine and normal to have less saliva at night but to take care of your oral health, it's important that you brush and floss before going to bed. 
Saliva usually rinses away the food debris that can stick around and cause plaque and bad breath, so it's a good idea to head to bed with a blank canvas. Keeping a glass of water by your bed can relieve the pain in your mouth and throat from dry mouth.
Bruxism
If you wake up with a headache or jaw pain, or your teeth are noticeably ground down and fractured, you might have bruxism. Also known as teeth grinding, bruxism is an extremely common way that everyday stress gets expressed through the body. People grind their teeth for all sorts of reasons, such as:

You can prevent the side effects of bruxism by wearing a nightguard while you sleep.
Sleep Apnea & Snoring
Sleep apnea occurs when your breath is irregular or temporarily stops while you sleep. Sleep apnea can cause snoring, but not all cases are identical. Some cases of sleep apnea are a problem with your brain and its ability to regulate the vital function of breathing. 
Otherwise, sleep apnea can be caused by physical blockages of the airway such as:

Large tonsils

Collapsed soft tissues in your throat

Allergies clogging your sinuses
Being an older, overweight male increases your chances of developing sleep apnea. Whatever the cause of your sleep apnea, talk to your dentist or doctor. Sleep apnea can cause a host of other health issues such as fatigue, high blood pressure, heart problems, diabetes, and depression.
Solutions for sleep apnea include:

Changing your sleep position

A Continuous Positive Air Pressure (CPAP) device

Oral appliances that keep the airway open

Surgery to fix oral tissues and aid airflow
Morning Breath
Sadly, not everyone wants to have that Hollywood-worthy morning kiss with their partner when they first wake up. Bad breath (or halitosis) tends to be worse in the morning and it can be really unpleasant. Normal oral bacteria become more active overnight, eating and digesting proteins found in your mouth. 
Bacteria produce a sulfur gas while they digest that can smell like rotten eggs. Normally, saliva washes bacteria away and neutralizes the smell, but you make less saliva overnight, so the smell can really build up. This is why it's essential that you brush, floss, and only drink water right before falling asleep.
Oral Health & Sleep
Did you know that regular visits to the dentist will improve your overall health and well-being, and can even improve your quality of sleep? If you're looking for a medical professional to help you feel better across the board—with a beautiful smile to boot—come see us at Family Dental Practice ! Make an appointment to address any concerns and start taking care of your oral health today.
The content of this blog is not intended to be a substitute for professional medical advice, diagnosis, or treatment. Always seek the advice of qualified health providers with questions you may have regarding medical conditions.
About Dr. Buchholtz & Dr. Garro
Dr. Will Buchholtz is dedicated to improving each patient's overall dental health. He has a comprehensive approach to helping each patient using progressive treatment techniques in the most efficient ways. As he continues to advance his education and incorporating the latest dental innovation and techniques into his daily practice, Dr. Will improves the quality of his patient's lives. He has completed extensive advanced training in bone grafting, sinus lifts and advanced implant techniques.