Cone Beam-What? Translation: Better Dental Experiences
Posted on November 13th, 2020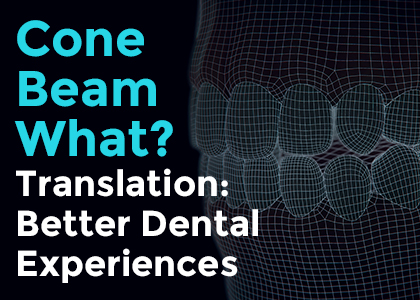 Dr. Buchholtz and Dr. Garro, your trusted Watertown dentist, is passionate about finding ways to improve the patient experience and achieve lasting results when it comes to the health and appearance of your smile. This requires continuous learning and investing in the types of advanced technologies that will stand the test of time—because keeping up with trends can be exciting, but optimal oral wellness and the overall health it contributes to will always be in style. 
So, without further ado, we'd love to introduce you to one of Family Dental Practice's favorites—the Cone Beam Computed Tomography Scan, Cone Beam CT for short (and CBCT for shortest). What the heck is the CBCT? Oh, just a piece of equipment that has revolutionized dental treatment!
Does this Machine Possess Magical Powers?
While CBCT scans do provide superb detail to a point that could make it seem we have the gift of prescience, a great deal of thanks is owed to scientific progress. We think our patients will appreciate the many benefits of CBCT scans. Wondering what those benefits are? Dr. Buchholtz and Dr. Garro is glad you asked!
Cone beam CT scans are non-invasive, painless, and eliminate the need for messy impressions

In about 15 seconds, Dr. Buchholtz and Dr. Garro will obtain a panoramic view of your head, neck, and jaw

Reduced radiation exposure compared to traditional x-rays

Higher resolution 3D images allow for precise treatment planning
The speed and ease with which scanned images are obtained might lead you to believe we're not getting a full picture, but Dr. Buchholtz and Dr. Garro will be able to show you everything they see with great clarity.
Do I Need a Cone Beam Scan?
If Dr. Buchholtz and Dr. Garro were only interested in what we could see with traditional x-rays and our own eyesight, the answer would be no. However, when we can't see what Cone Beam CT scans can, diagnostics may be delayed. In some cases, this means not catching something until it's visible to the naked eye, which may also mean you're experiencing symptoms that worry you. Even traditional x-rays might not show us tumors in the bone that can be seen on cone-beam CT scans. 
What else do CBCT scans help with?
Treatment planning – dental implant placement, tooth extractions, reconstructive and even cosmetic procedures can be precisely planned with the 3D, panoramic images CBCT scans provide
Differentiation between types of tissue

– bone, nerves, soft tissue, and teeth are seen more clearly in CBCT scans

TMJ diagnosis

– we can more accurately determine the severity of temporomandibular joint disorders

Jaw, sinus, nerve canal, and nasal cavity evaluation – these evaluations can help us diagnose obstructive sleep apnea and customize an oral appliance that gets you back to sleeping restfully
Locating pain at its source

– we can eliminate the guesswork of what's causing tooth, mouth, and/or jaw pain, then get to work solving the problem
Elevating Standards & Improving Experiences
When we discuss the advantages of CBCT scanning, the fact that oral health extends beyond the mouth is much easier to see instead of remaining an abstract concept—and the visual proof helps drive this point home, too! 
At Family Dental Practice, we believe in treating people, not just their teeth. We take great pride in making the dentist's office a warm, comfortable place to be, and find fulfillment in increasing your oral wellness and smile confidence. 
The implementation of CBCT scans help us accomplish these goals, and we'd love to help you accomplish yours—contact us today to schedule an appointment!
The content of this blog is not intended to be a substitute for professional medical advice, diagnosis, or treatment. Always seek the advice of qualified health providers with questions you may have regarding medical conditions.
About Dr. Buchholtz & Dr. Garro
Dr. Will Buchholtz is dedicated to improving each patient's overall dental health. He has a comprehensive approach to helping each patient using progressive treatment techniques in the most efficient ways. As he continues to advance his education and incorporating the latest dental innovation and techniques into his daily practice, Dr. Will improves the quality of his patient's lives. He has completed extensive advanced training in bone grafting, sinus lifts and advanced implant techniques.