ClearCorrect™: Show Off A Straighter Smile
Posted on April 27th, 2020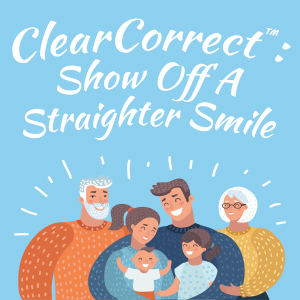 Thousands of people have straightened their teeth with the ClearCorrect orthodontics system since 2006. Patients love the discreet appearance and easy care of these removable aligners.
Treatment begins with an evaluation where Family Dental Practice takes impressions or scans of your teeth and submits the results to ClearCorrect, which then fabricates a series of aligners custom-designed to apply pressure to the specific teeth you want to move. Your Watertown dentists check your progress from time to time, occasionally switching out your aligners for new sets as your teeth shift to their desired location. Each set of aligners is generally worn for 2-3 weeks depending on your individual treatment plan.
ClearCorrect aligners need to be worn at least 22 hours a day through the duration of your treatment. Treatment can take only a few months or last a few years, depending on the complexity of your dental situation. Every patient is different!
If you are wondering how to pay for straighter teeth, we offer flexible financing options. We know there are many other questions you may have-orthodontic treatment is a big decision. If we can help you with any answers, or if you would like to schedule a consultation about ClearCorrect orthodontics, get in touch with us today!
The content of this blog is not intended to be a substitute for professional medical advice, diagnosis, or treatment. Always seek the advice of qualified health providers with questions you may have regarding medical conditions.
*Dr. Buchholtz and Dr. Garro are general dentists providing orthodontic services.
About Dr. Buchholtz & Dr. Garro
Dr. Will Buchholtz is dedicated to improving each patient's overall dental health. He has a comprehensive approach to helping each patient using progressive treatment techniques in the most efficient ways. As he continues to advance his education and incorporating the latest dental innovation and techniques into his daily practice, Dr. Will improves the quality of his patient's lives. He has completed extensive advanced training in bone grafting, sinus lifts and advanced implant techniques.