Choosing the Right Dentist
Posted on August 27th, 2022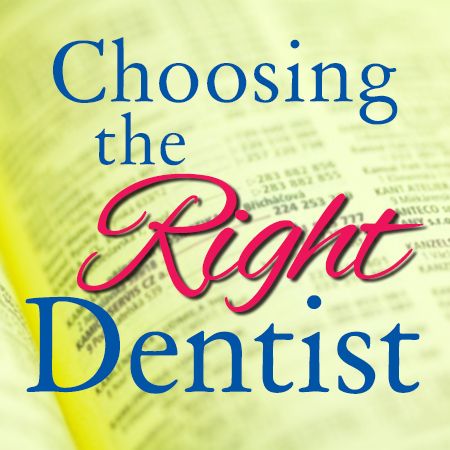 It's no secret that Watertown residents are careful about how they choose medical professionals for their family, but sometimes it's not easy to find everything you want in a dentist. Family Dental Practice understands that choosing a dentist is no small feat, so we've put together this guide to picking a dentist for individuals and families. 
How to Choose the Right Dentist
There are a lot of factors to consider when looking at dentists in your area. For some Watertown residents, the most important thing is proximity, so it's easy to narrow their search by location. For others, the key ingredient is affordability, while others may be looking for just the right service mix and supreme comfort. 
The easiest way to start your search is by setting your top three priorities. These may be location, cost, and comfort – or good reviews, service mix, and same-day appointments. Whatever is most important to you should be at the top of your list. Once you have an idea of what you need and what you want from a dentist, the process of selection becomes much easier.
Dentists & Insurance
If you have dental insurance, you might want to look at your provider's network before getting too excited about random dentists you've found on the internet. Often, preferred providers will have larger percentages of services covered and offer you the lowest out-of-pocket expenses. Most dentist offices are happy to check your insurance and tell you how much is covered (or you can check their website), but you can also find out online where dentists in your network are conveniently located.
The Experience is Everything
At the end of the day, it's all about your experience at the dentist. That's why Family Dental Practice suggests asking friends and family to recommend a dentist they trust. Once you've found a doctor that might fit, schedule a consultation. Most insurances will cover consultations with multiple dentists (but not multiple x-ray consultations with one dentist), so feel free to shop around. 
When you go in, try to get a sense of how it feels to be a patient there. Is the staff friendly? Is the office clean? Do you have to wait a long time? Can they answer your questions to your satisfaction? How are the other patients treated? Do the other patients seem satisfied? How do they treat the staff? How far is the staff willing to go for your comfort? How easy is it to clear pricing information?
Here are two crucial questions to ask over the phone:
"Which specialists do you work with?" If the answer is none, you might be taking a big risk in going there-no dentist is an expert in every dental specialty.

"How many hygienists do you have?" This is a good indicator of how many patients the office can handle. Additionally, if the answer is none, you should walk away; hygienists specialize in cleanings and dentists shouldn't be doing them.
Finding the Right Fit Feels Good
Once you've found the right dentist, you'll know it. Maybe great online reviews got you into the office or they offer all of the cosmetic services you wanted. Either way, at the end of your appointment, you should have a pretty good idea of what you can expect in the future. If for any reason you don't, just ask! Dentists tend to be very accommodating to new patients.
If you would like to learn more or have a professional walk you through this process over the phone, contact us today! We love to help people find the dental care they need.
The content of this blog is not intended to be a substitute for professional medical advice, diagnosis, or treatment. Always seek the advice of qualified health providers with questions you may have regarding medical conditions.
About Dr. Buchholtz & Dr. Garro
Dr. Will Buchholtz is dedicated to improving each patient's overall dental health. He has a comprehensive approach to helping each patient using progressive treatment techniques in the most efficient ways. As he continues to advance his education and incorporating the latest dental innovation and techniques into his daily practice, Dr. Will improves the quality of his patient's lives. He has completed extensive advanced training in bone grafting, sinus lifts and advanced implant techniques.